Circle Sampler (4 circles – 16 different stitches)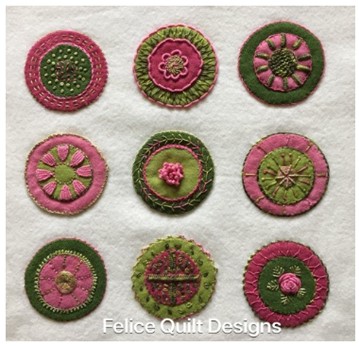 Saturday, June 3rd, 2021 10am-4pm
Location: Kramer's Sew and Vac., 9907 Montgomery Rd
The Stitches Sampler Class is one that welcomes beginners as well as intermediate wool appliqué stitchers wanting to learn embroidery stitches to embellish their work. It will be created on a 10″ white wool block.
The class will consist of learning sixteen stitches and produce them on a series of Four Double Wool Circles provided in the Kit. The Wool Kit includes a photo card with all the stitches labelled. There will be three color combinations of kits available.
The book that will be used in class is Sue Spargo's Creative Stitching. It is optional, but helpful. It can be purchased at www.felicequiltdesigns.com
Needles included are Clover© Size 20 & 24 Chenille Needle and Tulip© Size 1 Milliners Needle. There will be four circles! Three spools of Eleganza© perle cotton is included. The kit is $35 and has Mistyfuse lightweight fusible on the back of the circles. You will just need to steam fuse the circles to your background to get started.
Supplies you need to bring:
Scissors to cut wool and thread
Small Iron and Pressing Mat
Pencil
White Chalk Marking Pencil (Sewline)
Small light if desired
Wool Kit includes:
Pattern – photo card with all the stitches labelled
Three spools of size 5 Eleganza© perle cotton thread
Mistyfuse lightweight fusible
Wool thread for whipstitching
Size 20 & 24 Chenille Needles
Milliner Needle Size 1
16 stitches included in 4 circles
Back Stitch 34
Single Threaded Back Stitch 37
Chain Stitch 169
Fly Stitch 127
Drizzle 100
Bullion. 92
Stem 2
Woven Picot 148
Double Cast On 96
Pekinese 40
French Knot 104
Tete de Boeuf 135
Pistil 106
Woven Picot 148
Bullion Rose 110
Seed Stitch 55
This workshop is $50.00 for members. Non-members will be required to pay an additional $10.00 non-member fee. Additional $35 kit fee payable to Felice.