Nora MacFarlane
Painted Pansy – Metallic Painted Flower

Saturday, October 8th, 10:00AM – 4:00PM
Seams Sew Easy Quilt Shop's event center, 2326 Mack Road
If you love creative fun, can trace, and enjoy paint by number, this class is for you! Learn how to create and design your own painted art quilts by working through the process of painting a 12"X12" pansy and planning your background quilting. By the end of class, you will have a painted quilt top and a plan for your free motion quilting design.
Required kit ($20) includes:
● Pattern, color guide, instructions, quilting example, one 14" square black broadcloth, black batting, Lumiere Metallic Paints, and quilter's preview.
Painted Pansy
By Nora MacFarlane
Supply List
Students provide:
• Kitchen size garbage bag
• Apron (opt. but highly recommended)
• Paper towels or paint rag
• Cup – for water
• White chalk pencil
• Light box (I have 6 to share)
• Black Sharpie marker
• Vis-a-Vis Marker to use with Quilter's Preview *black – available at office supply
• 16" X 16" foam core board or thick cardboard
• Silver Tacks (they need to be flat – about 20)
• Old sock for erasing markers
• Paint brushes – (Hobby Lobby, Michaels, Target) *A small value pack is fine. Be sure it has variety, medium and small brushes and a fine point brush. I prefer angled tips vs. pointed. I use small, medium and large (1/2").
Image of painted flower before thread work. The workshop is for painting the pansy. The image below is for illustration purposes.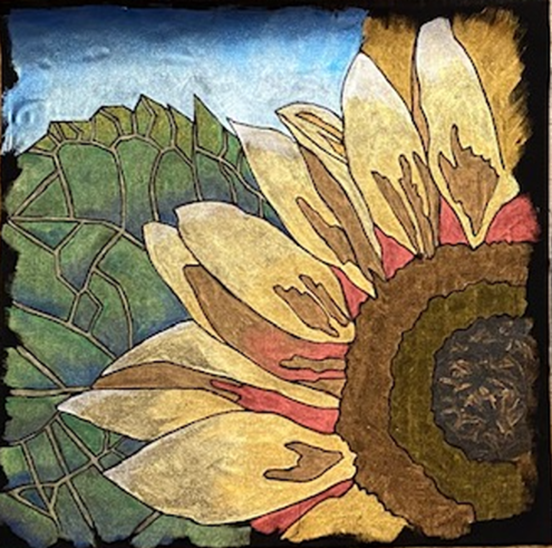 This workshop is $50.00 for members. Non-members will be required to pay an additional $10.00 non-member fee. Additional $20 supply fee, payable to Nora at class