Thread Portraits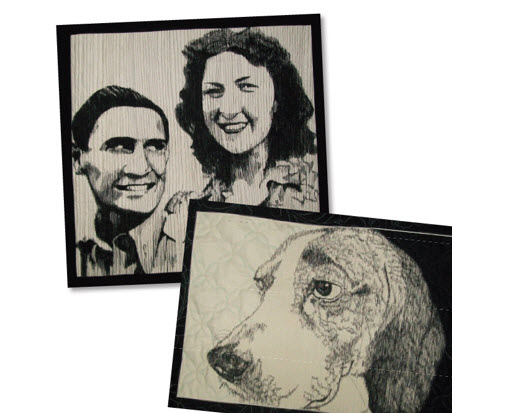 Two-day: April 9 and April 23, 2022, 10:00am-4:00pm
Seams Sew Easy Quilt Shop's event center, 2326 Mack Road
In this workshop you will reproduce a photograph, using your sewing machine. Teri recommends that for the class you choose a well-lit, clear, simple photograph. She will make a pattern for you from your photograph and during the workshop she will lead you through the process of transferring the pattern to fabric and adding layers of thread stitching to shade the picture in.
When you register, you will be sent instructions for emailing your photo to Teri. She would prefer digital photos, but can accept print copy. She needs to have your photo by March 28th.
Supply List
• Photo sent to Teri Tope in advance.
• 1 yard tightly woven cotton fabric in a light color (suggest Northcott Colorworks solids or similar) No Kona Please.
• 1 yard WHITE fusible cloth backing such as – Face it by Lazy Girl Designs or Shape flex by Pellon.
• 1 cone black thread (suggest Superior SoFine) and at least 2 bobbins pre-wound before class of same or lighter weight thread.
• Cone holder for thread if needed.
• Spring Tension Embroidery Hoop 7 inch (this is not a craft wooden embroidery hoop).
• Sewing machine that enables you to drop the feed dogs for free motion sewing.
• Free motion or hopping foot for your sewing machine (and knowledge on how to attach to your sewing machine).
• Water Erasable blue fabric marking pen.
• Extra sewing machine needles (sharps).
• Light Box.
• Basic sewing supplies: seam ripper, pins, and scissors.
• Paper and pencil.
** Irons and Ironing Boards will be supplied for the class.
This two-day workshop is $100.00 for members. Non-members will be required to pay an additional $10.00 non-member fee. Additional $10 pattern, payable to Teri